Hills Pet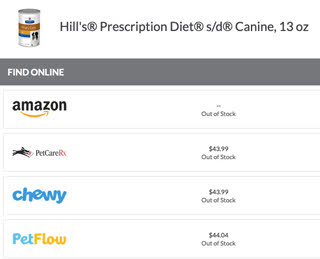 Screenshot from hillspet.com/dog-food/pd-sd-canine-canned
A pop-up box on the website of Hill's Pet Nutrition tells the tale: A shopper wishing to order Hill's Prescription Diet s/d wet dog food, for treatment of struvite urinary stones, is informed that four key online outlets are out of stock.
For nearly a year, Dr. Duane Moore has had trouble obtaining Royal Canin diets for patients of his veterinary practice in Palisade, Colorado. From an order of 10 products, he might receive six — eventually. "We never know what we're going to get or when we're going to get it," Moore said.
Moore carries both maintenance diets and therapeutic diets, and the uncertainty causes problems in particular for patients who need therapeutic diets, which are formulated to address specific health conditions. Cats with kidney deficiencies, for example, who are well-adjusted to one diet, may struggle to adjust to a different diet, complicating the decision to switch.
Moore is not alone in experiencing problems obtaining certain pet foods, judging from frustrated practitioners' posts on the Veterinary Information Network, an online community for the profession. Nor is Royal Canin the only brand affected — Hill's Pet Nutrition, another leading maker of therapeutic formulations, also is having supply problems. In particular, veterinarians cite shortages of stone-dissolving diets, made for cats and dogs with urinary-tract issues.
Representatives from Royal Canin and Hill's cited the pandemic-spurred rise in pet adoption and fostering, along with greater pet owner attentiveness to their pets, as driving greater demand.
Also in the mix are pandemic-related logistical challenges, including truck transportation issues, according to Cecile Coutens, president of Royal Canin North America, who said all the brand's products have been affected.
In order to replenish supplies as quickly as possible, Coutens told the VIN News Service by email, Royal Canin began in February to temporarily limit production to "critical diets."
She elaborated: "Critical diets are those most important to the health of the pets, including those that require a veterinary recommendation and those diets that are unique to the Royal Canin portfolio. Royal Canin Veterinary Diet Urinary SO and Gastrointestinal Low Fat are among those critical diets that have been identified as priorities."
An example of a diet that is not prioritized, Coutens said, is small coat care — a dry food that Royal Canin describes as made for small adult dogs weighing up to 22 pounds with "dull, dry coats."
Choosing to narrow production was not easy, Coutens noted, but necessary to make products more predictably available and "to earn the trust of our customers and pet parents again."
In addition, Royal Canin is expanding its manufacturing plants in Lebanon, Tennessee, and North Sioux City, South Dakota, and building a manufacturing site in Lewisburg, Ohio, which the company expects will help boost production in the long run.
Hill's likewise reports increased demand across categories, including wet and dry dog and cat foods, with wet food especially in demand.
Similar to Royal Canin, Hill's is coping with the strain by cutting back on products.
A letter on hillsvet.com accessible to registered users reads: "As we continue to manage tight production capacity, a small range of canned products will be removed from our portfolio in 2021. This difficult decision enables Hill's to provide continuity of service on the majority of our diets and provide transparency to veterinarians and pet parents."
Dr. Jolle Kirpensteijn, Hill's chief veterinary affairs officer, told VIN News by email that the situation will be "fluid throughout the year as demand continues to remain strong."
Moore, the practitioner in Colorado, said that lack of availability of therapeutic diets is challenging for patient care. "Trying to keep the patients [healthy] that are on specific prescription diets is fairly difficult," he said.
Speaking of cats fed renal diets for kidney insufficiency, Moore said, "It's always quite traumatic to have to change diets since cats can be quite finicky. Once you get them stable on a certain diet, having to jump in and change diets … it kind of rocks their world a little bit."
For a variety of reasons — including genetic predisposition, nutrient imbalances, metabolic abnormalities or infection — stones can form in the bladders of cats and dogs alike, according to an article by the Clinical Nutrition Service of Cummings Veterinary Medical Center at Tufts University. Diets meant to dissolve struvite stones encourage water consumption, limit certain minerals and proteins, and change urine acidity. Diets formulated to dissolve urate stones are low in purine, a compound common in meat, organs and seafood. A third kind of stone, composed of calcium oxalate, cannot be dissolved but must be removed, usually surgically, according to the article.
A shortage of hypoallergenic diets is problematic, as well, Moore said. In switching patients' food, veterinarians run the risk of losing control of a pet's allergies and having to restart the painstaking process of finding a food that works for them, he said. If the food's not available, though, there's no choice but to switch.

Coutens at Royal Canin said veterinarians who have questions about alternative diet recommendations may contact a nutritional adviser at the company, at 888-213-4486.
Hill's is advising pet owners to search for different sizes of the same food, and if still unable to find their desired diet, to consult their veterinarians. Veterinarians, in turn, may contact the Hill's Veterinary Consultation Service at 800-548-VETS (8387) or email vet_consult@hillspet.com for help with food recommendations.
Hill's said it has provided a list of food substitution recommendations at hillsvet.com. The list is accessible only by veterinarians registered to use the site because therapeutic diets require a veterinarian's recommendation.
Comments on the VIN message boards suggest that practitioners' frustration is due in part to not being informed quickly or effectively about the shortages.
For example, Dr. Ebalinna Vaughn, a practitioner in Virginia, posted in late January: "I've had terrible service from RC recently. Just about every food that I've put patients on is back ordered without notice. Their website has only recently started showing which food are back ordered. I was able to place many orders in the last month or so to only get a notice 2+ weeks later saying the order was cancelled. No explanation for why it was cancelled."
She continued: "I reached out to my rep several weeks ago and there has been a deafening silence since."
Moore posted an anecdote in mid-March with an ironic twist: "I just received an email from a client asking what to do since Chewy says it can't get feline renal diet from Royal Canin. … They suggested other options of food to replace the Royal Canin (Like Science Diet U/D…really!)."
Science Diet is made by Hill's, although the u/d and other urinary health diets are marketed under the Hill's Prescription Diet line, not Science Diet. Chewy is a big online pet retailer. 
Moore told VIN News that he still likes Royal Canin and its products, but company communication is lacking. "I think their marketing and shipping needs to have a real heart-to-heart discussion about what they're trying to pull off …" he said. "I think they're one of the best diets on the market. Unfortunately, they're not very good if I can't feed them to anybody."
VIN News Service commentaries are opinion pieces presenting insights, personal experiences and/or perspectives on topical issues by members of the veterinary community. To submit a commentary for consideration, email news@vin.com.