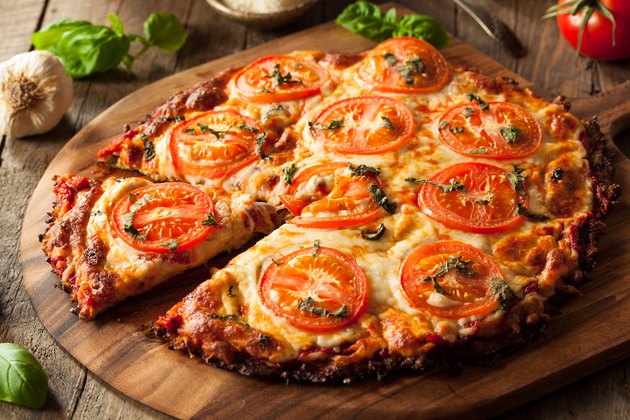 As the last meal of the day, what you choose to eat for dinner affects your sleep schedule, your digestion and your health goals. It's crucial to pick a well-balanced meal that your body can digest easily.
If you're cutting back on carbohydrates, whether for weight loss or for other reasons, there are plenty of recipes that offer a wide variety of the good stuff, including protein, fiber and vitamins.
To jumpstart your meal planning for the week ahead, try these low-carb dinner recipes recommended by registered dietitians. All clock in under 25 grams of carbs.
Need an Easy Way to Track Carbs?
1. Spicy Flank Steak Lettuce Cups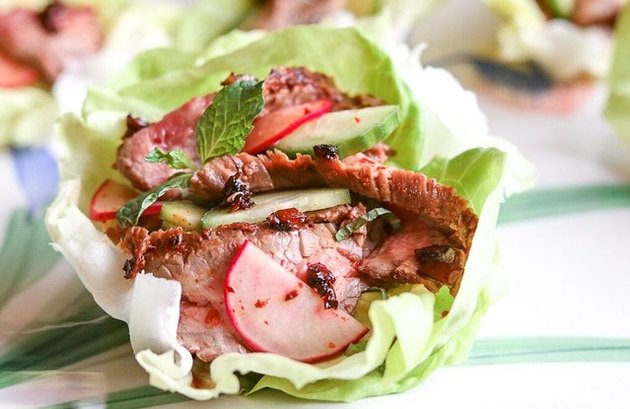 ​1 gram of carbs per serving​
Lettuce cups can make for a great tortilla alternative on taco night. This protein-rich alternative will you up so midnight snacking won't be in the cards, and it provides fiber-rich vegetables that are low in digested-carbs, says Amy Shapiro, RD, founder of Real Nutrition.
2. Gluten-Free Margherita Protein Pizza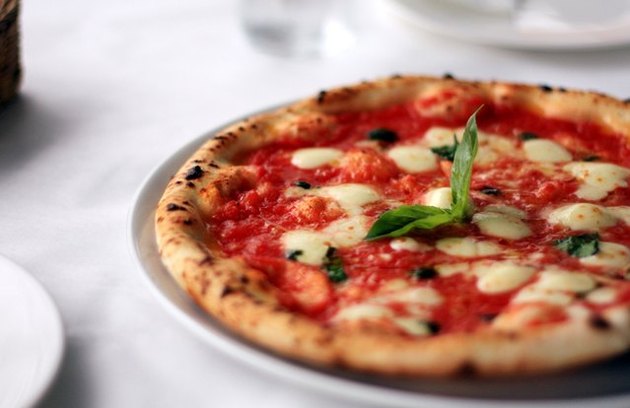 ​5 grams of carbs per serving​
Traditional pizza pies, while delicious, often lack the right combination of satiating ingredients to keep you satisfied. This gluten-free alternative, however, packs an impressive 29 grams of protein per serving.
Plus, the benefit of the added fiber in the protein helps you to digest your pizza dinner while mimicking the crunch of carbs you usually associate with a slice. If you're a fan of veggies, consider adding more! This base recipe is a great starting point, but there are plenty of low-carb vegetables that could add more flavor and texture, like spinach, mushrooms and bell peppers.
3. Cauliflower Rice and Black Bean Burrito Bowls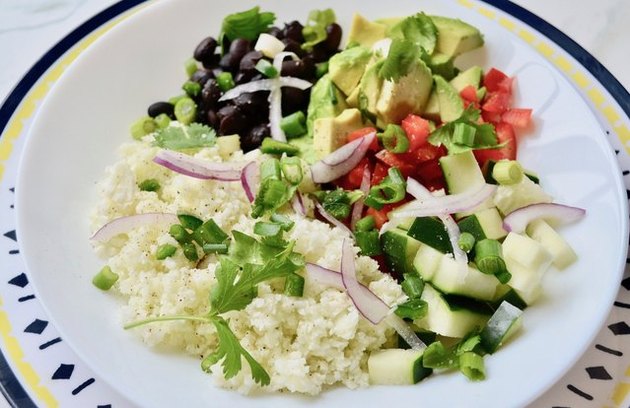 ​20 grams of carbs per serving​
This low-carb dinner recipe checks all of the boxes. It's made entirely with antioxidant- and fiber-rich plants.
Bonus points for the avocado in here, which could help you wake up feeling like you had plenty of beauty sleep. Shapiro says the creamy, green ingredient can keep your skin hydrated and healthy.
4. Middle Eastern Grass-Fed Steak Kebabs
​17 grams of carbs per serving​
If you enjoy the spices of the Middle East, these kebabs will hit the spot. As a flavorful and rich dish, you'll benefit from the omega-3 fatty acids in grass-fed meat, as well as the vitamin C in the peppers and protein in the Greek yogurt. Sheri Vettel, RD at the Institute for Integrative Nutrition, touts the yogurt for its protein and probiotics, which will help you easily digest the meal before bedtime.
5. Instant Pot Spaghetti Squash With Spicy Chicken Sausage and Mustard Greens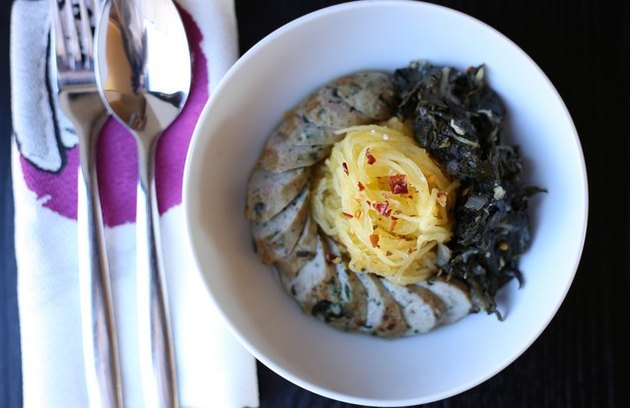 ​20 grams of carbs per serving​
While spaghetti squash may seem intimidating if you've never cooked it before, once you learn how to cook it in your Instant Pot, you'll be hooked. The sweet, crunchy flavor of the squash will feel like a splurge, but unlike regular pasta, it won't max out your carbohydrate intake, Shapiro says.
As for the greens? "Mustard greens are bitter and great for digestion, liver cleansing and getting more iron. In fact, we love all dark leafy greens," she says.
6. Slow Cooker Vegetable 'Pasta' Lasagna
​17 grams of carbs per serving​
Put this together in the morning, turn on the slow cooker in the afternoon, and you'll have a delicious dinner by nightfall.
By using pistachio flour to create pasta-like flat noodles, Vettel says you'll benefit from the extra fiber, protein and healthy fats. This ideal balance keeps you satisfied for longer and will help to prevent those pesky blood sugar cravings that could result in snacking. And remember, veggies are your friend, so pack in as many as you'd like.