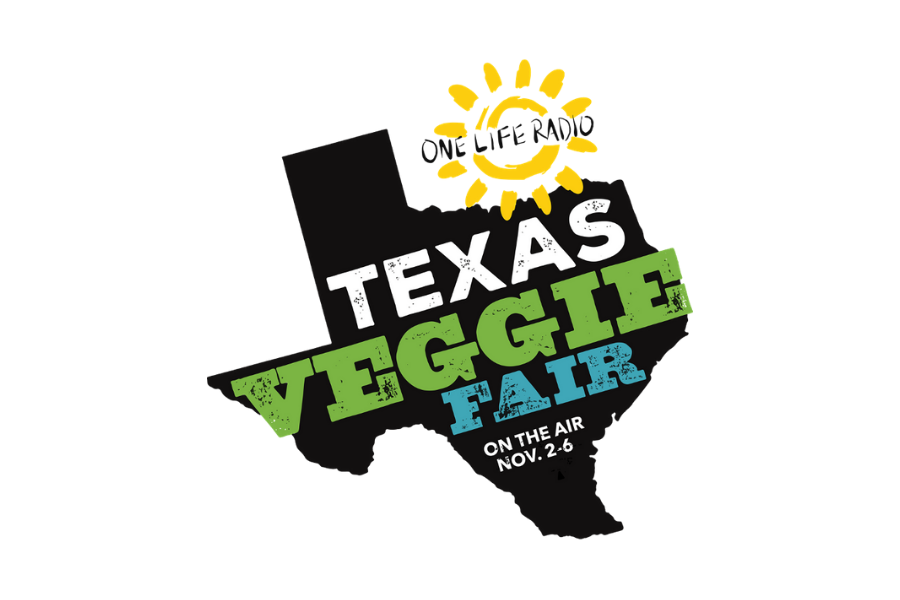 Radio show, TVF founder team up to bring local vegfest to the airwaves in November
DALLAS — One Life Radio and Texas Veggie Fair are proud to announce their partnership for "Texas Veggie Fair On The Air," a week-long celebration of vegan and plant-based living.
This live on-air event will feature past Texas Veggie Fair presenters and vendors, along with other notable figures in the vegan community, live on the air with One Life Radio host Bernadette Fiaschetti.
Texas Veggie Fair founder and producer Jamey Scott will join the show on Monday, Nov. 2, to talk about the exciting programming schedule, along with specials and giveaways to celebrate the week. The first guest will be Ingrid Newkirk, President of People for the Ethical Treatment of Animals (PETA).
On Election Day, Stacy Sutton Kerby from the Texas Humane Legislation Network will share updates about her organization's fight against unjust animal welfare laws. Café Momentum Sous Chef John Mercer, a repeat Texas Veggie Fair presenter, will also join the show to talk about the nonprofit restaurant's recent reopening and current plant-based menu offerings.
Wednesday, we'll talk meat substitutes with two Texas Veggie Fair regulars—Brett Christoffel,  local entrepreneur and founder of All Y'alls Foods, and Chef Troy Gardner representing his new venture, "Tastes Like Chicken" (TLC) Vegan Kitchen
Andy Tabar, another Texas Veggie Fair mainstay known for his Compassion Co apparel brand and The Bearded Vegans podcast, will join Thursday's show to talk about veganism in pop culture. Then it's time to learn about plant-based nutrition with Food Saved Me founder Katherine Lawrence-Ireland, who has worked with the Physicians Committee for Responsible Medicine (PCRM) and Dr. Colin Campbell's "Certificate in Plant-Based Nutrition" program.
On Friday, Vegan Outreach Online and Community Outreach Specialist Victor Flores will explain how his organization has adapted to the COVID-19 pandemic and share some tips for safely spreading the word about animal advocacy. Last but not least, Spiral Diner founder Amy McNutt will join the show to talk about her restaurant and how much the vegan scene in DFW has grown since the first location opened 18 years ago!
The show will be aired live daily on KFXR 1190 AM and online through iHeartRadio. Recordings will later be posted on One Life Radio's website.
About Texas Veggie Fair and One Life Radio
Texas Veggie Fair is a free, nonprofit vegan festival that was founded in Dallas in 2010. Tens of thousands of attendees over the past 10 years enjoyed local food vendors, free food samples, music, arts and other family-friendly entertainment while learning about the benefits of a plant-based diet from notable speakers and chefs. No physical event will be held in 2020 due to the COVID-19 pandemic.
One Life Radio is your number one multimedia source for alternative and holistic health, designed to inspire listeners to live their ONE LIFE to the fullest naturally. The host of One Life Radio, Bernadette Fiaschetti, is dedicated to partnering with leaders of the natural wellness movement in The Green Life Revolution™, never influenced by Big Pharma, Big Agriculture, Big Chemical, or Big Food.