Turmeric is touted and trending for its peppery notes and reported health benefits.
While some of us are just becoming hip to the spice, it actually dates back centuries where it was first used in India and China to help treat an array of ailments, according to a November 2015 article in Critical Reviews in Food Science and Nutrition.
Present-day science shows that curcumin, the active compound in turmeric, may play a role in reducing inflammation and the risk of neurodegenerative diseases like Alzheimer's, heart disease and more.
While the research is promising, there are limitations — many studies are done on animals, not humans, and researchers often use supplements or extracts rather than the actual spice — so more needs to be conducted.
Get in on the bold flavor and potential health benefits of this spice with these creative turmeric recipes.
Tip
Curcumin is metabolized quickly and is therefore not well-absorbed in the body, which makes it difficult to reap the benefits. But piperine, a compound in black pepper, helps increase turmeric's bioavailability — so, you'll want to pair turmeric with black pepper to increase its absorption.
1. Middle Eastern Scramble Bowl With Pita Chips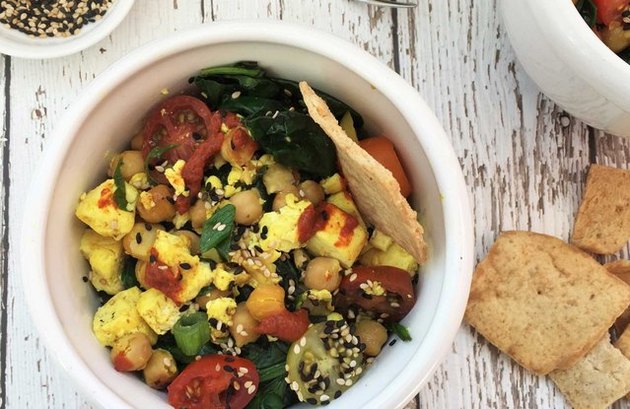 This may look like a bowl of scrambled eggs, but it's trickery. Turmeric's potent golden color quickly transforms tofu into delicious scrambles that make for a protein-packed breakfast.
Chickpeas, sesame seeds, cherry tomatoes and spinach together, bring the Middle Eastern flavors. Despite being a plant-based dish, this recipe still manages to provide 18 grams of protein per serving.
2. Turmeric Marinated Grilled Chicken Tenders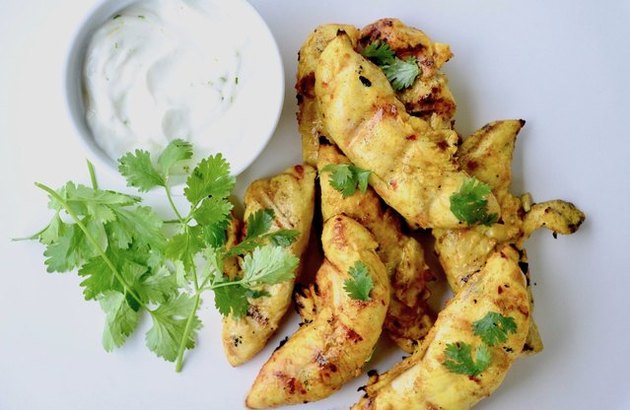 Barbecue chicken tenders are a thing of the past. Or, at least they will be once you've tried these chicken tenders marinated in an olive oil, lime juice, turmeric, garlic and curry powder mix. The creamy, lime-infused Greek yogurt dip balances the spiciness.
Chicken tenders tend to be high in saturated fat because they're coated and deep-fried but this grilled dish relies on actual spices — like turmeric — for flavor instead.
3. Spicy Gingered Carrot Fries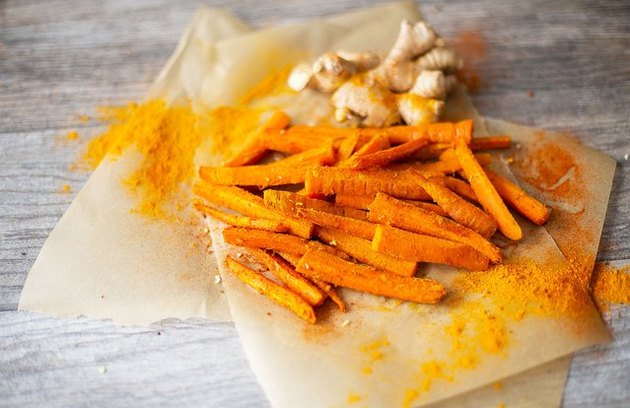 This recipe is full of surprises. First, carrots are used in place of potatoes, adding a sweeter bite full of beta-carotene. And while fries are typically seasoned with salt (and maybe pepper), fresh ginger, cayenne and turmeric are used here instead.
The combination of seasonings brings a spicy yet bright bite to each fry. These spices also bring a hefty dose of antioxidants, as outlined in a September 2017 paper in Antioxidants.
4. No-Bake Golden Milk Cheesecake Bars
If you love cheesecake, you're going to drool over these vegan, turmeric-spiced bars. The first layer is a crunchy pecan crust, which is topped with a creamy cake made with cashews, maple syrup and coconut milk.
You'll allow everything to set for at least three hours in the fridge or freezer — and done, a delicious turmeric dessert!
Get the No-Bake Golden Milk Cheesecake Bars recipe at Bakerita.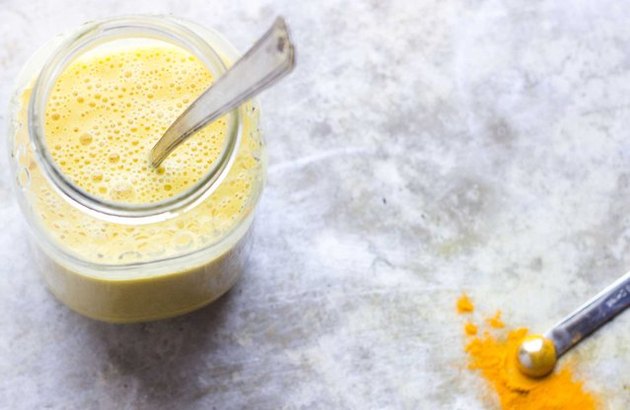 What better way to start the morning than with a glass of sweet and spicy citrus goodness? Comprised of five power foods — an orange, clementine, banana, flax seeds and turmeric — you'll feel better as soon as you start sipping on this smoothie.
You'll get 10 grams of filling fiber in each glass thanks to fruit and flax seeds, and you'll exceed your daily vitamin C needs courtesy of the orange and clementine.
6. Paleo Vegan Turmeric Jicama Poke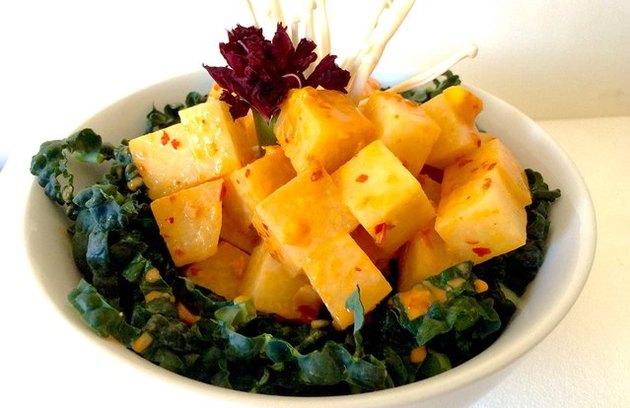 In this recipe, jicama is used instead of tuna and turmeric brings fragrant spice and bright colors. With kale as the base in place of white rice, you're getting vitamins A, C and K and a boost of beta-carotene.
The carb count here is lower than traditional poke bowls, and because it's lower in calories and protein, too, we recommend enjoying the bowl as a side to a main entrée like fish or sushi rolls.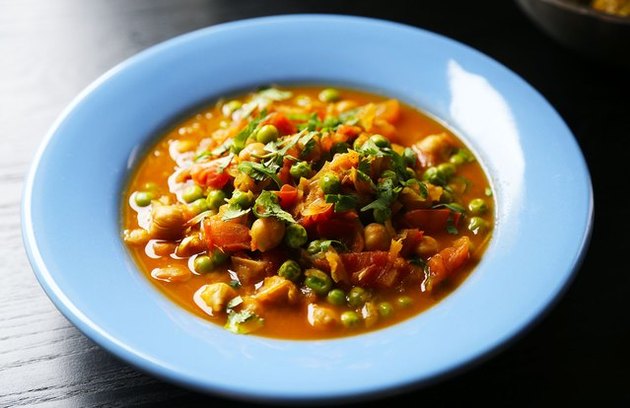 Chana Masala is a warm Indian curry dish made up of a smorgasbord of spices like turmeric, ginger root, coriander, cumin, garam masala, paprika and black pepper. Chana means chickpeas, which are the main source of protein and fiber here. The dish pairs well with rice or naan — both soak up the spicy sauce.
8. Butter-Free Turmeric Popcorn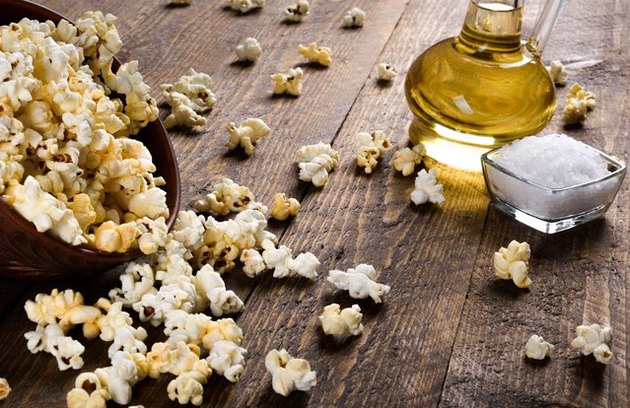 Skip the store-bought bags of microwave popcorn, which tend to be higher in calories and sodium, and make it at home instead.
Popcorn is naturally healthy — it's a whole grain and it's high in phenolic acids, a type of antioxidant, as explained in a January 2019 analysis in Antioxidants. Take this perfect snack up a notch by adding turmeric and olive oil as this flavorful recipe calls for.