Maybe it's the intense flavor, but canned sardines don't get the love they deserve. Yet there's no denying that these tiny but mighty fish pack plenty of perks.
"Canned sardines are not only a source of complete protein (around 15 grams per serving for five sardines) that contains all of the essential amino acids, but they also have omega-3 fatty acids (both EPA and DHA) often found in cold water fish," May Zhu, RDN, LDN, founder of Nutrition Happens, tells LIVESTRONG.com.
"DHA supports brain and heart health by reducing overall LDL (bad) cholesterol and increasing HDL (good) cholesterol when consumed in place of saturated fats."
"Sardines also contain vitamin D, calcium and phosphorous, a combination of vitamins and minerals that are necessary to support healthy bones," Zhu adds.
Plus, sardines are super convenient: "The canning process allows for the fish to be preserved for longer, which makes them a more cost efficient and versatile protein option you can keep in the pantry," Zhu adds.
How to Reduce the Fishy Taste
If you're fearful of the "fishy" taste, don't be. Just draining the oil in the tin can greatly reduce the fishiness, Zhu says. So can cooking the little fish in complementary flavors. Stewing sardines in sauces or marinades with lots of acids like fresh lemon juice or vinegar and fresh herbs will definitely do the trick, Zhu says.
Whether you're a new convert or a longtime lover, these seven savory sardine recipes will give you a good reason to crack open a can of these little fish with big flavor.
1. Persimmon, Pistachio and Turnip Salad With Mustard Greens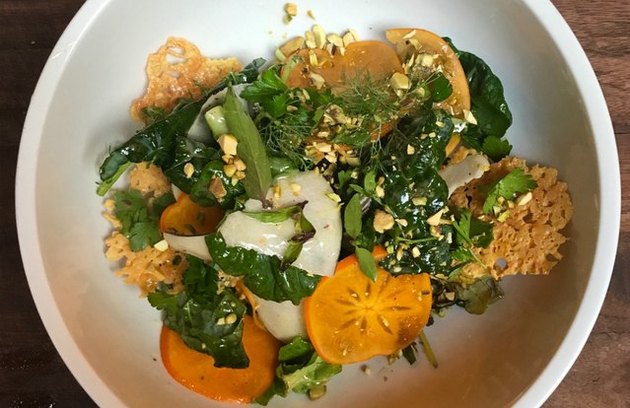 Satiating sardines transform this light salad into a hearty, high-protein meal (23 grams per serving) that also supplies heart-healthy, filling fats like omega-3s. Crunchy pistachios and crumbly Manchego balance the bitter flavor of mustard greens and kale, both rich in vitamins A, K and C, Zhu says.
If you're looking to reduce the overall fat and calorie content, try swapping in shredded parmesan or crumbled feta for the Manchego, Zhu recommends.
2. Shaved Vegetable Salad With Sardines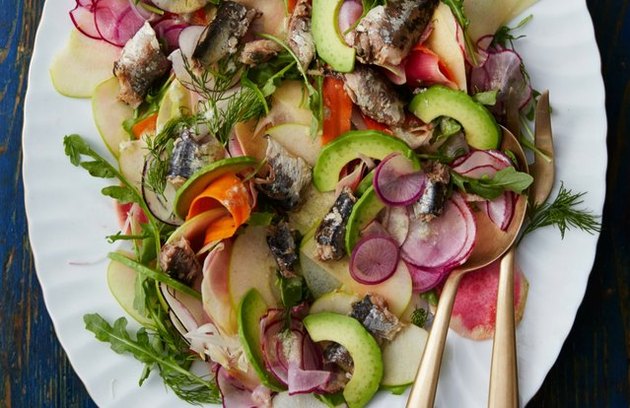 From tangy Granny Smith apples to starchy rutabaga, crunchy carrots and creamy avocado, this sardine-based salad, with its abundant assortment of fresh produce, has texture, flavor and plenty of gut-friendly fiber (16 grams per serving). And eating the rainbow — the idea of eating a spectrum of colorful fruits and veggies — promotes nutrient diversity since you ingest a wide variety of vitamins and minerals, which can help support overall health, Zhu says.
3. Mediterranean Sardine Pasta With Lemon, Capers and Chili Flakes
Staple pantry ingredients like zesty lemon, spicy red pepper flakes and fresh herbs provide the simple yet satisfying flavors for this Mediterranean-inspired pasta tossed with savory sardines. A lip-smacking sauce with an olive oil base boasts monounsaturated fats that support heart health, Zhu says.
To boost the delicious dish's fiber content and satiety factor, Zhu suggests using whole-grain spaghetti or pairing with a side of fiber-rich vegetables.
Get the Mediterranean Sardine Pasta With Lemon, Capers and Chili Flakes recipe and nutrition info at Tori Avey.
4. Mini Sardine Fish Cakes
If you like your food a little spicy, these fiery fish cakes — made with chili oil-infused sardines — are for you. Tangy Dijon mustard and cayenne pepper provide an extra piquant kick to the yogurt sauce perfect for dipping.
"This recipe would work well for those on a lower carb lifestyle, since one serving contains only 2 grams of carbohydrates," Zhu says. For a more well-rounded meal, she recommends bumping up the protein content by swapping in Greek yogurt for the plain version and pairing with a side of fiber-rich veggies.
Requiring only five minutes of cook time, this fuss-free sardine rice bowl comes together in a cinch and contains all three macronutrients to make it a complete meal, Zhu says. A fried egg on top offers even more protein and textural variation (think: yummy runny yolk) to this belly-filling bowl.
Seasoned with shallots, chilis and garlic, this Indonesian-inspired dish stewed in tomato sauce takes canned seafood to new heights. What's more, the fat content in sardines will help the vitamin A found in tomatoes absorb better since fat-soluble vitamins dissolve in fats and oils, Zhu says.
Serve these flavorful fish over whole-grain or legume pasta (such as chickpea, black bean or lentil-based noodles) for even more filling fiber and protein, Zhu recommends.
7. Fisherman's Sardine Stew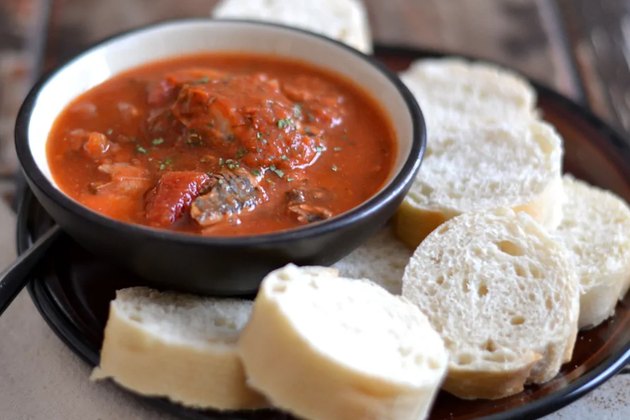 "Tomato-based stews can be a filling way to have a meal since the majority of the volume comes from water, which can help fill us up faster," Zhu says. "Tomatoes are also a great source of vitamins C and K and contain lycopene, which works as antioxidant in the body and helps support skin and vision health."