Kefir is similar to yogurt, in that, it's a fermented milk product. But it's also sold in a bottle, deeming it more of a beverage — kind of confusing, right?
Kefir originated in the Caucasus region of Eastern Europe and is now enjoyed worldwide. In the traditional sense, it's a probiotic drink made by fermenting milk with both fungal and bacterial organisms. This is one of the main differences between yogurt and kefir: Yogurt is made with bacteria while kefir is made with bacteria and yeast, as outlined in a January 2020 paper in Microorganisms.
Enjoying kefir regularly is linked to lower levels of inflammation and cholesterol, improved digestion and gut health as well as other benefits, but more human studies need to be done to confirm these findings, per a June 2017 analysis in Nutrition Research Reviews.
One thing we know for certain about kefir is that it's a great source of both probiotics and protein — and it makes for a delicious and healthy a.m. meal. Here are our favorite kefir breakfast recipes.
Kefir Brands We Love
Lifeway Organic Whole Milk Kefir ($3.99, Amazon.com)
Wallaby Organic Low-Fat Kefir, Plain ($3.59, Amazon.com)
Lifeway Low-Fat Kefir, Plain ($2.78, Amazon.com)
1. Whole-Wheat Carrot Cake Waffles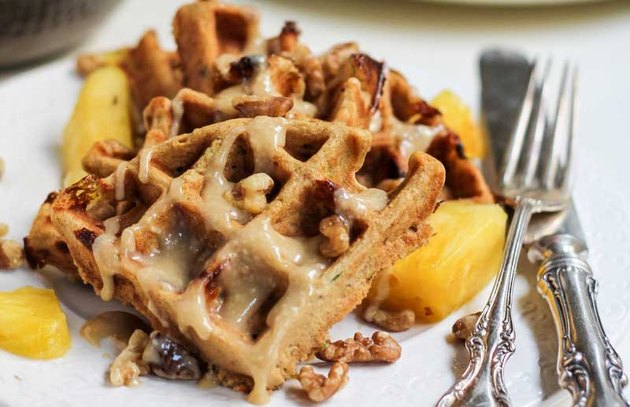 Healthy upgrades were made to turn plain waffles into these delicious Whole-Wheat Carrot Cake Waffles. Whole-wheat flour was used in place of refined flour and carrots and pineapple were included for added sweetness, bringing along with them extra fiber, vitamins and minerals.
Kefir is the real standout here — it's used as a sub for buttermilk, which gives the recipe a protein boost. Plain kefir has about 40 percent more protein compared to buttermilk, according to the USDA.
Mango adds sweetness while almonds provide a source of healthy fats and some fiber. This smoothie actually has two protein sources — cottage cheese and kefir — which account for a majority of the 18 grams of protein per serving.
It's easy for smoothies to overdo it on the carbs and sugar when they're filled with juices and sweetened milk or yogurts. But the Sunshine Smoothie is well-balanced — carbs account for 46 percent of the total calories, 26 percent comes from protein and 28 percent of the total calories are from fat.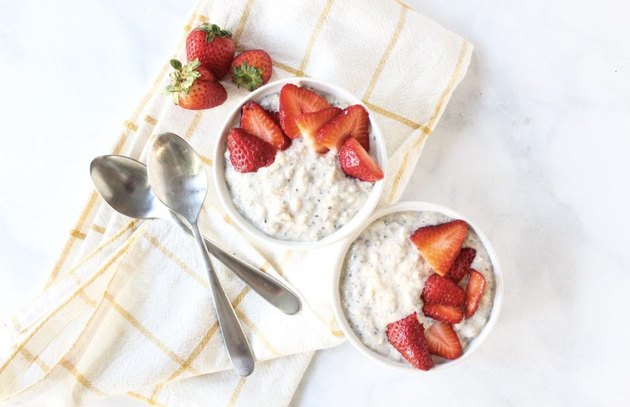 Overnight oats are where it's at if you're strapped for time in the morning. It's a healthy, inexpensive breakfast you can make the night before with no cooking required. Plus, you can make a few servings at once, which is a real time-saver.
To create a balanced overnight oats breakfast, you'll need to add protein and fat. Using kefir as the liquid to soak up the oats, and in this case, the chia seeds, adds a satisfying creaminess along with protein. Hemp and chia seeds bring the healthy fats.
4. Chocolate Nutter Butter Smoothie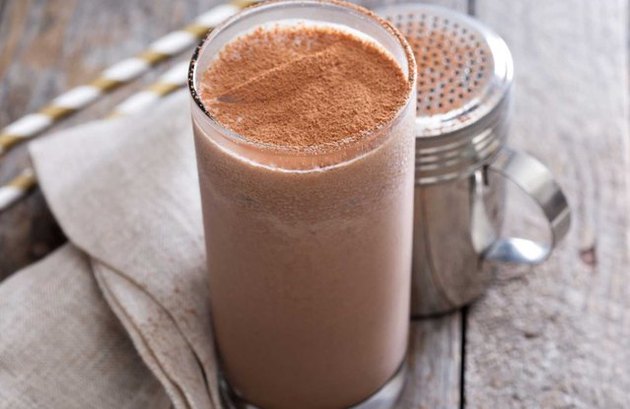 Getting ample protein in the morning is important, especially as we age. Eating a balanced amount of protein throughout day may be just as important as the total amount you're eating within those 24 hours, research published in American Journal of Clinical Nutrition in June 2015 suggests.
5. Amped-Up Bircher Microbe Muesli
This one includes two protein powerhouses — kefir and Greek yogurt — for 32 grams of the muscle-building macro.
The protein balances the carbohydrates from the muesli, apple and raisins and the healthy plant-based fats from hemp seeds and almonds.
6. Peanut Butter Banana Overnight Oats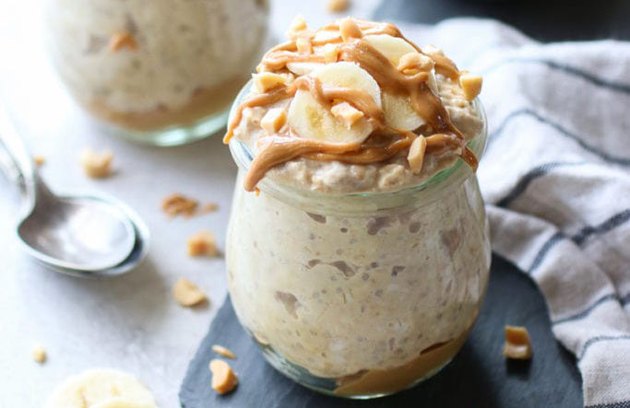 Peanut butter makes everything better and what better combo than peanut butter and banana? The recipe also calls for flax or chia seeds. Both expand in volume when mixed with liquid and both are sources of fiber, protein and omega-3 fatty acids.
Omega-3s help reduce inflammation and support our heart and mental health, among many other health benefits.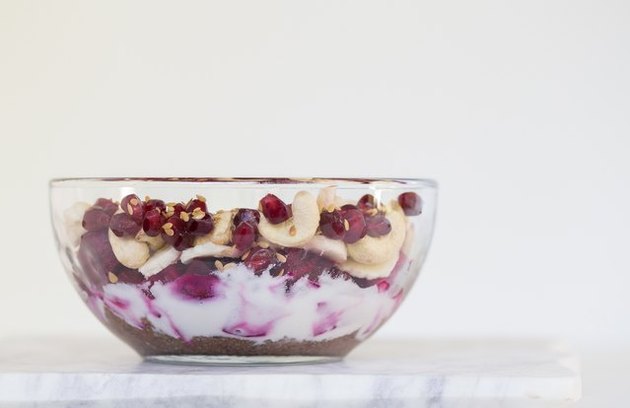 Teff is a high-protein whole grain, providing 10 grams of protein per cup (cooked), according to the USDA. A breakfast high in protein has been shown to be helpful if you're trying to lose weight, as explained by a December 2018 article in the American Society for Nutrition.
Eating protein earlier in the day for breakfast increases your muscle mass, satiety hormones and the amount of energy you burn. It also supports better blood glucose control.