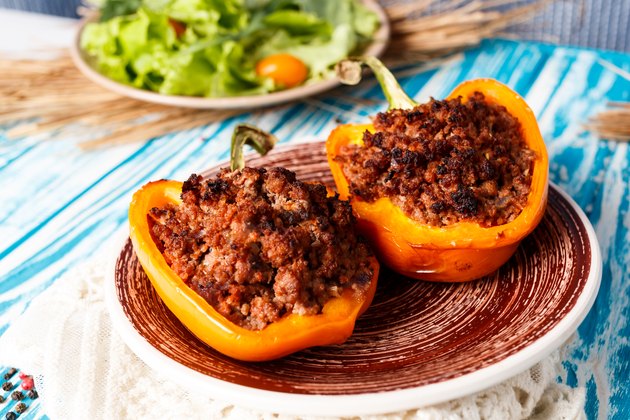 While ground turkey gets a bad rap for being boring, this versatile, affordable meat offers way more than just tired, dry burgers or mundane meatloaf.
From stuffed peppers and quinoa casseroles to lettuce wraps and lasagna, you can make endless culinary magic out of a package of ground turkey.
Are You Getting Enough Protein?
Whether you're looking for a healthier substitute for ground beef or simply want to mix up your meal plan, these seven creative and healthy ground turkey recipes will have you making them time and time again.
1. Cajun Turkey and Greens Hot Cereal Bowl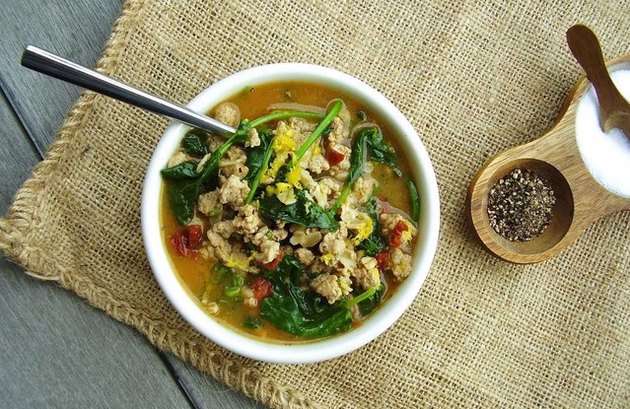 All it takes is a sprinkle of cajun seasoning to sass up this ground turkey dish and spice up your weekly menu.
A simple, fresh recipe that uses a lot of pantry ingredients, this hearty hot cereal bowl is packed with high-quality protein (a jaw-dropping 30 grams per serving) to keep your muscles healthy and your tummy satisfied, dietitian Abby Langer, RD, tells LIVESTRONG.com.
Plus, it contains complex carbs in the form of high-fiber, old-fashioned rolled oats. Whole grains like oats can support healthy digestion and help with weight management, per the USDA.
2. Breakfast Turkey-Apple Sausage Mini Patties
These savory breakfast sausages serve up a hint of sweetness thanks to Granny Smith apples.
"While sausage is usually full of saturated fat and questionable meat, these patties are a healthy take that will keep you satisfied for hours," Langer says. That's right, no mystery meat in these mini-patties — just simple, whole-food ingredients, such as ground turkey, apples, eggs, oats, olive oil and spices.
And a single serving is super satisfying — a portion is three mini-patties and provides 13 grams of protein — to satiate your stomach well into lunchtime.
These tasty turkey wraps toss out tortillas and substitute them with sturdy romaine lettuce leaves to save you hundreds of calories and oodles of carbs.
For reference, one lettuce leaf clocks in at 5 calories and less than one carb compared to 150 calories and 26 grams of carbs for a flour tortilla wrap, per the USDA.
The creative combination of tamari sauce, sugar and vinegar fills these turkey wraps with mouthwatering flavor.
To make these lip-smacking lettuce wraps even healthier, Langer recommends heaping on more vegetable toppings like shredded carrots, purple cabbage and greens to add a dose of nutrients and a pop of color to your plate.
4. Turkey Stuffed Peppers
Langer says these turkey stuffed peppers provide the "perfect family-friendly match of lean protein and vegetables."
Crammed with salsa, spices and cheese, these scrumptious peppers sneak in superfood spinach too, so you'll get a variety of vitamins and minerals with each bite. To boost the nutrient profile further, you can also incorporate meaty mushrooms and more leafy greens, Langer says.
Try prepping these peppers on a Sunday and stash them in the fridge for a day or two. This way, you only need to pop them in the oven for a quick and convenient weeknight dinner.
5. Caprese Quinoa Casserole
This easy casserole checks all the nutrient boxes with turkey for protein, cheese for calcium, plenty of whole grains (OK, quinoa is technically a seed!) and vegetables, Langer says.
Stuffed with spinach, this Mediterranean-inspired meal features all the flavors you fancy including fresh basil, fragrant garlic, juicy Roma tomatoes and pungent Parmesan.
While tasty, a Mediterranean diet — an eating pattern that emphasizes veggies, fruits, nuts and seeds, legumes, extra-virgin olive oil and lean proteins — also supports good health and is linked to preventing chronic diseases, which is why it's recommended by the U.S. Department of Health and Human Services' Dietary Guidelines for Americans.
6. Zucchini Crock-Pot Paleo Lasagna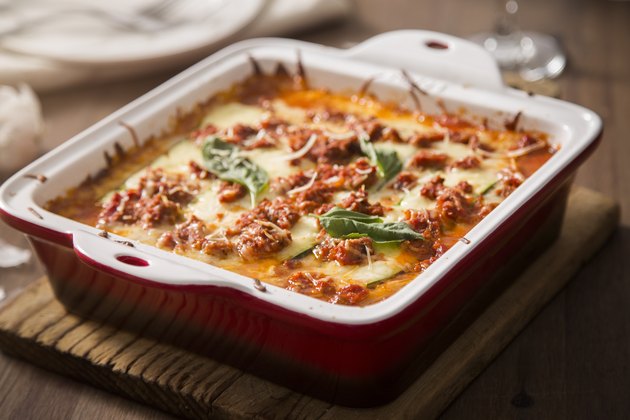 This slow-cooker, paleo-friendly lasagna nixes the noodles in favor of fresh zucchini layers, making it an optimal option for low-carb dieters, Langer says.
While dairy is a no-no for a strict paleo eating plan, this luscious lasagna lends its cheesy goodness to pureed summer squash combined with coconut milk and eggs to replicate the texture and flavor of ricotta.
And though homemade marinara might take some extra time and TLC, it's worth it — the whole-food, natural ingredients in this sauce are healthier than many store-bought brands, which are often overflowing with sodium.
If you want to reduce the recipe's fat and calorie content, try swapping in almond milk for coconut milk.
7. Ground Turkey Teriyaki Rice Bowl
"A teriyaki recipe that doesn't use bottled sugary teriyaki sauce? Genius," Langer says.
Indeed, since the sauce is made from scratch, you can adjust the amount of sugar and salt for a healthier homemade twist on traditional teriyaki.
And while this delicious turkey dish calls for carrots and broccoli, Langer loves that it's easily customizable, so you can use any vegetables you have on hand.
Serve over brown rice or cut the carbs entirely by spooning the meat mixture into lettuce leaves for a ridiculously yummy turkey wrap.
Get the Ground Turkey Teriyaki Rice Bowl recipe and nutrition info at Yellow Bliss Road.