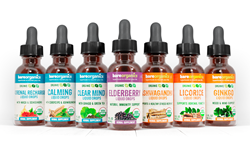 "WR Group is delighted to introduce more targeted healthy living solutions to our loyal customers with the new BareOrganics Liquid Drops," says Renee Barch-Niles, EVP – Retail at WR Group. "We feel a sense of responsibility to continue to help families achieve and maintain healthy lifestyles."

SCOTTSDALE, Ariz. (PRWEB)
May 28, 2020
WR Group, one of the country's leading global wellness companies, expands its functional nutrition footprint with the launch of new Liquid Herbal Drops from BareOrganics. Whether you are looking to inspire wellness at home or on-the-go during these challenging times, potent liquid herbal extracts deliver powerful herbs and complementary organic ingredients to help you perform and feel your absolute best. From easy to use unique blends to single ingredient formulas, the new drops can be enjoyed alone or by adding to your favorite beverages for an extra boost of nutrition anytime, anywhere.
Available in 12 convenient, compact vials, the natural formulas do not require refrigeration, making them ideal for those with active, busy lifestyles, and a smart, healthy option for those looking to increase their energy and productivity, boost their immunity, help with digestion, stress less and sleep better. Simply add any of the drops into water, juice, hot tea, or just use by themselves as a tincture. One full dropper (30 drops) one to three times per day is recommended for optimal support.
"WR Group is delighted to introduce more targeted healthy living solutions to our loyal customers with the new BareOrganics Liquid Herbal Drops," says Renee Barch-Niles, EVP – Retail at WR Group. "Now more than ever, we feel a sense of responsibility to continue to help families achieve and maintain a healthy lifestyle with effective, functional offerings. These USDA certified organic herbal liquid extracts fit our consumers' daily nutrition and wellness needs in a more convenient way."
Stress less with Calming and Ashwagandha Drops, power your immunity with Elderberry and Oregano Drops, and help quiet your mind and sleep soundly with Sweet Dreams and Valerian Liquid Drops. Support the body's internal cleansing/detox process and liver function with Digestive Care and Milk Thistle Drops, get a boost of natural energy with the Adrenal Recharge and Licorice Drops, and calm your mind with Clear Mind and Ginkgo Drops for improved cognitive function.
BareOrganics is a unique line of superfood powders, juices, tinctures, beverage enhancers and brew cups dedicated to providing simple, real nutrition for real people. Each product is designed to help customers meet their daily nutrition goals, feel energized, and know that they're getting their nutrients from the best raw, organic sources. BareOrganics superfoods are USDA Certified Organic, Natural, Chemical-Free and Non-GMO. BareOrganics Superfoods are not only good for you, they're good for the planet, too. With sustainability at its core, BareOrganics packaging is either 100% recyclable or in some cases biodegradable. After filling your body with goodness, you can rest easy knowing you're treating the planet with kindness.
Price and Availability: $13.49 (1 FL. OZ). Available through Palko and Threshold Natural Distributors country-wide. Launching nationally at drugstores nationwide in Fall 2020. Consumers can also visit http://www.bareorganics.com to locate a retailer near them.
For more information about BareOrganics Superfoods, please visit BareOrganics.com.
About WR Group: WR Group is one of the world's fastest growing global manufacturers and distributors of high-end health and personal care products. Its extensive brand portfolio includes nearly 900 products, which are distributed to more than 60 countries worldwide. WR Group, based in Scottsdale, AZ., has an active consumer base of over 2 million customers that have grown to become loyal, repeat purchasers. Since 2001, WR Group has been a leader in the health and wellness industry. WR Group has designed 16 uniquely high-quality brands with a focus on delivering the cleanest, most effective products available for families including Probiogen™ Spore Probiotics, ORALGEN NuPearl® Teeth Whitening, BareOrganics™ Superfoods and more.
Share article on social media or email: