With a properly stocked pantry and some fresh veggies on hand, you can slay the dinner game — every single night.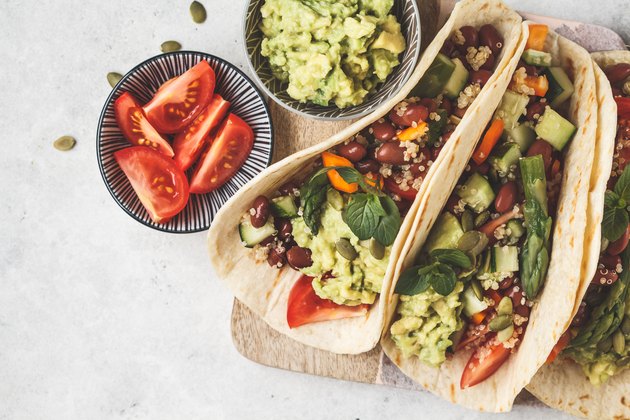 From Pot Pie Soup to a Couscous Verde Bowl, we've pulled together seven plant-based dinners that feature common pantry items, along with a few other basics such as fresh or frozen veggies and lean proteins that you probably have on hand right now.
These easy plant-based recipes prove there's no need to overcomplicate dinner time — simply look to your pantry to get started.
Are You Getting Enough Protein?
1. Supper Veggie Fried Rice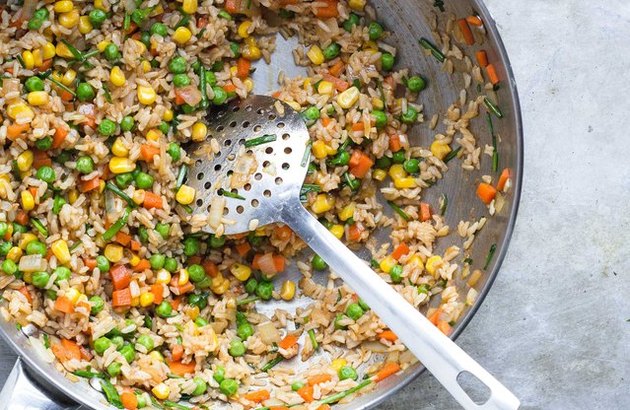 Calories: 295
Protein: 7 grams
The ingredient list for this healthier take on a fan-favorite features staples from your freezer and pantry shelves. From the freezer, we have peas and corn, and from the pantry, olive oil, onion and brown rice.
This recipe provides a half-cup of cooked brown rice per serving, which counts as one whole-grain serving. According to the 2015-2020 Dietary Guidelines for Americans, we should eat about three to six servings of whole grains each day. The Super Veggie Fried Rice runs a little light on protein for a meal, so consider adding tempeh or tofu to help round out the dish.
2. Mexican Tomato, Black Bean and Corn Pasta Soup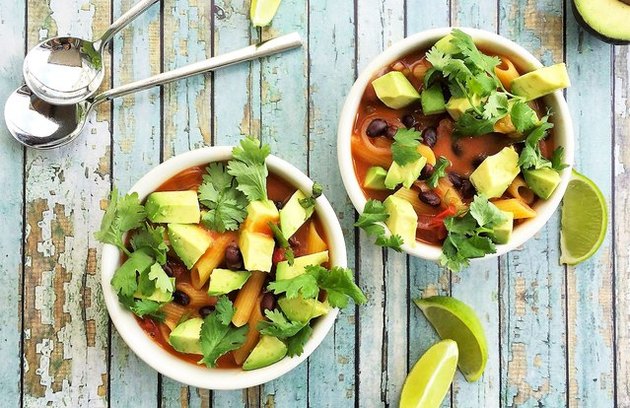 Calories: 492
Protein: 15 grams
Much of this soup comes together thanks to canned and dry goods — tomatoes, black beans, broth and pasta — yet it's still is so refreshing and light with the fresh avocado, cilantro and red onion. This soup provides 20 grams of fiber (which is pretty remarkable when it comes to soups), mainly from the veggies and beans but also from the avocado.
Avocados are hailed for their healthy monounsaturated fats, but one-fourth of an avocado also provides 3.4 grams of fiber. That meets about 13 percent of the Daily Value (DV). They're also a good source (in other words, provides 10 percent of the DV or more) of copper, pantothenic acid and folate.
3. Vegan Couscous Verde Bowl With Black Beans and Corn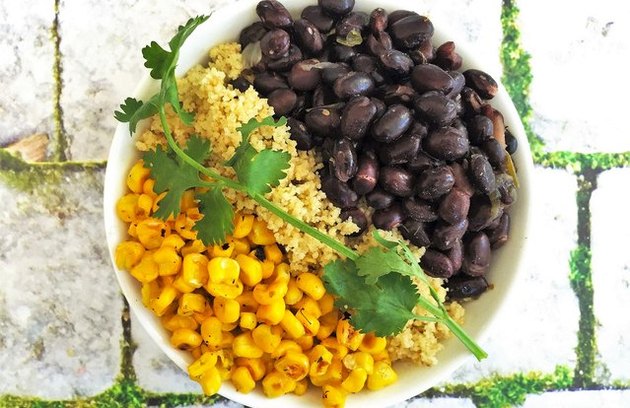 Calories: 311
Protein: 13 grams
A four-ingredient dinner that's vegan and takes less than 20 minutes to throw together? You're welcome. This dish comes together with canned black beans, frozen corn, salsa and couscous — that's it.
Canned black beans are a member of the pulse family, along with peas, chickpeas and lentils. Pulses check all of the boxes: They're nutritious (high in fiber and protein), they're versatile, affordable and sustainable. Pulses cost about $0.10 per serving and are what's called a "nitrogen-fixing" crop, which means they can convert nitrogen in the air into a plant-available nutrient and therefore reduce the need for nitrogen fertilizers, which is beneficial for our environment, according to the USA Dry Pea & Lentil Council.
4. Bean and Farro Buddha Bowl With Cilantro-Apple Dressing
Calories: 431
Protein: 13 grams
This plant-based dish is a perfect marriage between pantry staples and fresh ingredients. The canned black beans, cannellini beans, farro and olive oil give this a solid base while the apples, cilantro, radishes and avocado add refreshing balance.
Apples provide a sweet crunch to this otherwise savory dish but they're also a source of fiber, polyphenols and carotenoids, according to a review study published in April 2018 in the Journal of the American College of Nutrition. The review looked at five human studies and concluded that eating apples can support weight-loss goals.
5. Pot Pie Soup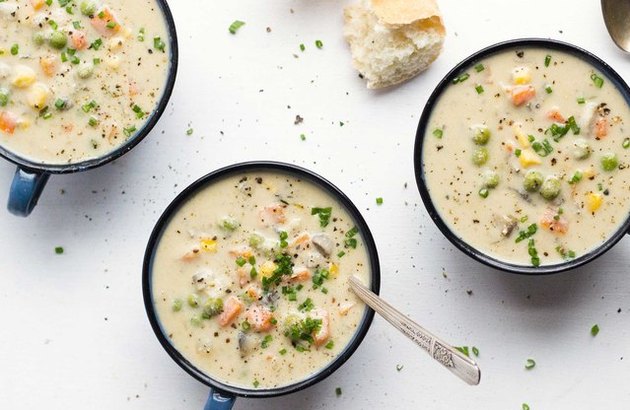 Calories: 498
Protein: 15 grams
Pot pie soup that's not just plant-based but 100-percent vegan, too? Yeah, we've got you covered. Cashews actually make up the creamy, dairy-free broth and half of the veggies, corn and peas, come straight from your freezer.
Cashews are an underrated nut when it comes to their nutritional benefits. A May 2017 clinical trial published in the American Journal of Clinical Nutrition found a link between eating cashews daily and a decrease in total and LDL cholesterol levels. This is in line with a significant body of research supporting the heart-health benefits of tree nuts, in general.
6. Beans and Greens Tacos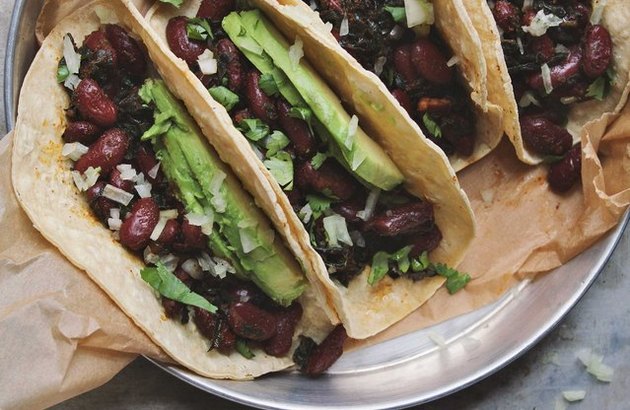 Calories: 467
Protein: 15 grams
You can pull most of the ingredients for this dish from your cupboard shelves: Olive oil, canned kidney beans, spices, tortillas and an onion. The ingredient list also includes lacinato kale, aka dinosaur kale, which you should store in the fridge.
A cup of kale has just six calories but the vitamin K offerings are off the charts, as in, meets more than 50 percent of the DV. Vitamin K is also crucial for building for strong bones and reducing risk for osteoporosis, according to the National Institutes of Health.
Vitamin K is a fat-soluble vitamin, which means your body is better at absorbing it if it's eaten with a source of fat. The good news is this recipe includes olive oil and avocado, which are full of healthy fats.
7. Simple Veggie Tofu Soup
Calories: 331
Protein: 22 grams
This recipe includes "simple" in the title because it really is that simple. It packs veggie broth, frozen mixed vegetables, tofu, and a few stalks of celery for good measure. It also provides a healthy balance of carbohydrates, protein and fat but if you want to add more substance to the meal, enjoy the soup with a piece of crusty whole-grain bread.
We especially love that it's so high in plant-based protein. A plant-based diet is more sustainable, which is a win-win for the environment but it's also good for your health, particularly your weight, according to a February 2015 study published in Nutrition. The controlled clinical study compared five diets — vegan, vegetarian, pescatarian, semi-vegetarian and omnivore — and found that after six months, vegan dieters lost the most weight.