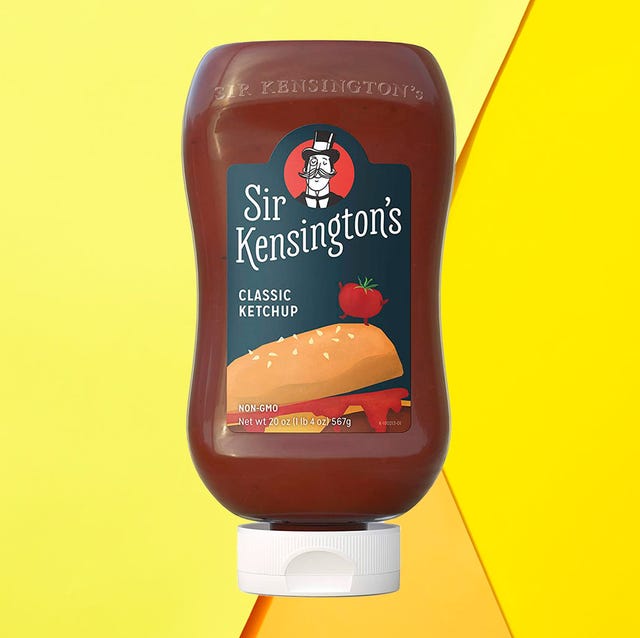 Jason Speakman
Ketchup makes pretty much everything taste better. Lackluster fries? Ketchup. Scrambled eggs? Ketchup. Breakfast potatoes? Ketchup.
Just how healthy is everyone's favorite condiment, though? Sadly, many go-to brands probably aren't the most nutritious thing to drown your green beans in. The stuff contains high-fructose corn syrup (and regular corn syrup), which has similar problems to table sugar when consumed in excess. Some research has also linked HFCS specifically to diabetes and obesity.
Relax; it's not all bad news: "Classic ketchup has a lot of added sugar, which is something I recommend avoiding," says nutritionist Amanda Baker Lemein, RDN. "However, it does provide the antioxidant lycopene."
If you can't imagine Sunday brunch without diner ketchup and home fries, go for it, says Kelsie Knerr, RD. But if you want to keep your condiment game squeaky-clean at home, you might consider a new go-to.
Luckily, there are all sorts of options out there to satisfy your tomato-y cravings.
Lemein and Knerr both recommend looking carefully at labels to see which condiments and seasonings might contain hidden added sugar. If you crave a little sweetness, look for a bottle that uses natural sweeteners (like honey or dates) instead of the ultra-processed stuff.
One thing to look out for, though: artificial sweeteners like sucralose. Although these zero-calorie sweeteners may technically be considered safe in moderation, many nutritionists recommend proceeding with caution.
The next time you're craving a ketchup-covered omelet or overcooked your chicken breast (again…), opt for one of these nutritionist-approved ketchup brands.
Advertisement – Continue Reading Below
1
Best Unsweetened Ketchup
Primal Kitchen Organic and Unsweetened Ketchup
amazon.com
If you want to give added sugar of all kinds the boot, Primal Kitchen is the ketchup brand for you. Made with tomato concentrate, balsamic vinegar, and spices (and no HFCS, dates, honey, or syrups of any kind), it's a personal favorite of nutritionist Keri Glassman, RD.  
Per serving: 10 calories, 0 g fat, 105 mg sodium, 2 g carbs, 1 g sugar, 0 g fiber, 0 g protein
2
Best Sweetened Ketchup
Wellbee's Honey Ketchup
amazon.com
If you like your ketchup sweet, this one uses honey instead of the usual corn syrup for traditional flavor without the nutritional setback.  
Per serving: 20 calories, 0 g fat, 80 mg sodium, 6 g carbs, 5 g sugar, 0 g fiber, 0 g protein
3
Best Produce-Sweetened Ketchup
Gault's 100% Sweetened-By-Veggies Tomato Ketchup
amazon.com
Another solid option for anyone with a sweet tooth, this Gault's ketchup is sweetened entirely with New Zealand-grown vegetables. 
Although there's still some sugar (2.8 grams per serving), it comes entirely from the plants you want on your plate anyway.  
Per serving: 55 calories, <1 g fat, 95 mg sodium, 2.8 g carbs, 2.8 g sugar, <1 g fiber, <1 g protein
4
Most Unique Flavor
Sir Kensington's Classic Ketchup
amazon.com
Made with fresh tomatoes (rather than paste or concentrate), a variety of seasonings and spices, and organic cane sugar, Sir Kensington's ketchup is a go-to for nutritionist Robin Werner, RD. 
It has a uniquely spicy, tangy vibe.  
Per serving: 15 calories, 0 g fat, 170 mg sodium, 4 g carbs, 3 g sugar, 0 g fiber, 0 g protein
5
Best Classic Flavor
Annie's Organic Ketchup
walmart.com
Annie's is a popular alternative ketchup that reviewers consistently rate as one of the best-tasting options out there. (Seriously, check out Amazon and Walmart.) 
A leveled-up version of the traditional stuff, sweetened with pure cane sugar instead of anything artificial, it's a favorite of Werner's. 
Per serving: 20 calories, 0 g fat, 130 mg sodium, 5 g carbs, 4 g sugar, 0 g fiber, 0 g protein
6
Best All-Around Staple
Woodstock Farms Organic Tomato Ketchup
amazon.com
Woodstock Farms is a great healthy option, Glassman says. 
Sweet and smooth, it does the trick with plain old organic sugar, so nothing hard-to-pronounce here! 
Per serving: 15 calories, 0 g fat, 6 mg sodium, 4 g carbs, 4 g sugar, 0 g fiber, 0 g protein
7
Best Texture
Trader Joe's Organic Ketchup
amazon.com
The thick texture of TJ's organic ketchup makes it indulgent and delicious. Werner likes that it's made with organic tomato puree and organic sugar instead of the usual syrups.   
Per serving: 15 calories, 0 g fat, 150 mg sodium, 3 g carbs, 2 g sugar, 0 g fiber, 0 g protein
8
Best Artisan Ketchup
Catskill Provisions Ketchup
amazon.com
If you're feeling a little ~fancy~ (even if you're just having burgers), check out this ketchup from Catskill Provisions, a New York-based artisan food and craft spirits company. 
It's sweetened with wildflower honey from Catskill's home state.  
Nutrition information not available.
9
Best Kid-Approved Ketchup
Thrive Market Organic Ketchup
thrivemarket.com
Though lesser-known, Thrive Market's organic ketchup has a sparkling reputation. Even among kids! 
With no additives and less sugar than classic ketchup brands, it's an all-around winner. 
Per serving: 15 calories, 0 g fat, 160 mg sodium, 4 g carbs, 3 g sugar, 0 g fiber, 0 g protein
10
Best For Dietary Restrictions
True Made Foods No Added Sugar Vegetable Ketchup
amazon.com
Made with tomato paste, apples, carrots, squash, spinach, vinegar, and spices, this innovative ketchup is an easy pick for just about anyone. Its simple ingredient list and low sugar count make it suitable for paleo—and even keto—eaters. 
Per serving: 10 calories, 0 g fat, 135 mg sodium, 3 g carbs, 2 g sugar, 0 g fiber, 0 g protein
Advertisement – Continue Reading Below