HYDERABAD: Diabetics are generally told to avoid having large quantities of rice given that it is rich in carbohydrates. But a new variety of rice developed and cultivated by Professor Jayashankar
Telangana
Agriculture University may not only help in reducing blood glucose, it may also help in fighting cardiovascular diseases.
According to the researchers, the new variety — 'Telangana Sona' — has only 51.6% glucose when compared to other varieties which have between 55% and 62% glucose. Another important finding about this variety is that it has less carbohydrates than even millets, according to National Institute of Nutrition (NIN), Secunderabad.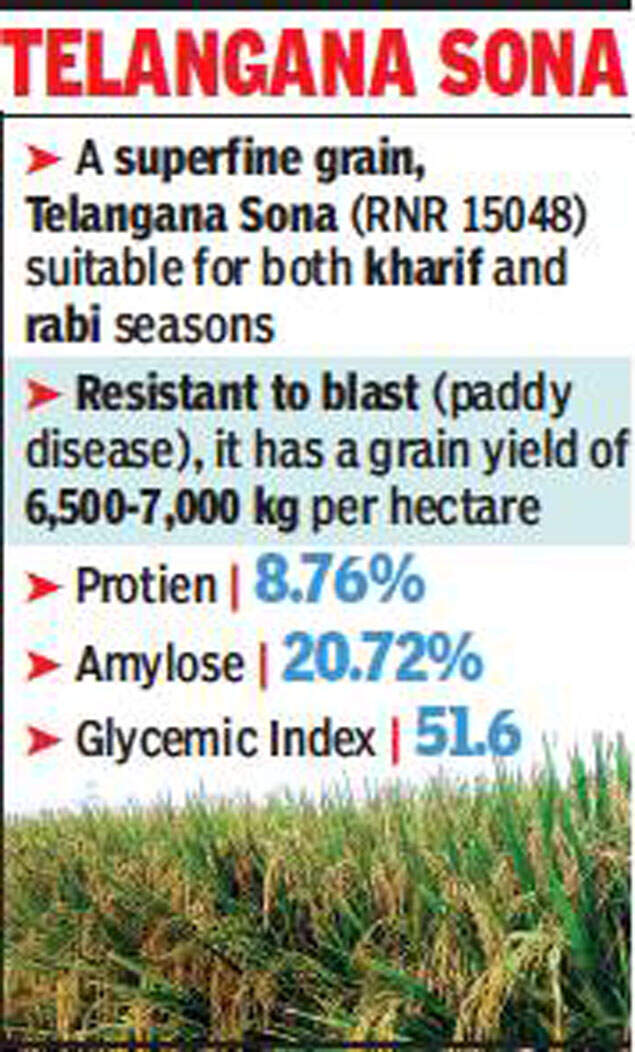 A paper on Sona has now been published in a recent issue of the reputed American Journal of Food Nutrition as useful variety with low glycemic index (GI). The researchers say the variety is effective in reducing type 2 diabetes.
"In conclusion, it can be reported from the study that the low GI rice RNR 15048 can be useful therapeutic diet that helps in reduction of blood glucose and elevation in plasma HDL Cholesterol levels in patients with type 2 diabetes," the paper states. Food low on GI release glucose slowly and steadily. Foods high on GI release glucose rapidly.
Sona was developed by the university three years ago along with another variety named after Bathukamma, Telangana's floral festival celebrated during Dasara. "Since then, we have been promoting this variety. A few lakh hectares in Telangana have been converted into Sona cultivation," professor Pravin Rao, vice chancellor of the university, told TOI. "I can say this is the most authentic diabetic-friendly developed in the country."
Officials say that the variety is also farmer-friendly as it gives yield in very short span when compared to other varieties. Farmers can expect the yield within 120 to 130 days.