Carbs aren't the friend you call for comfort when you're on the keto diet. After all, the low-carb, high-fat eating plan requires you to limit your total carbs to just 5 to 10 percent of your total calories, which leaves the bulk of your daily calories to come from dietary fats.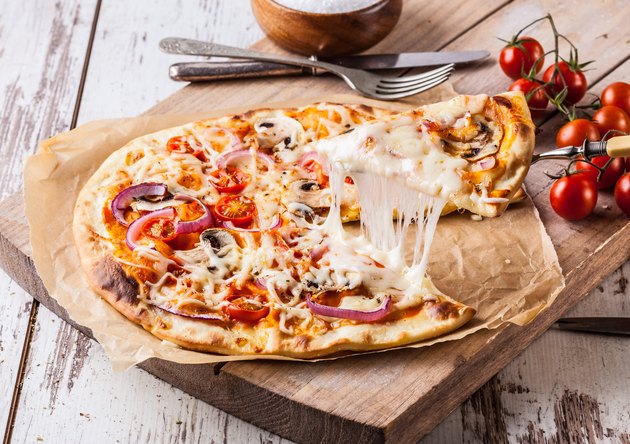 Instead of missing out on all your beloved treats, try swapping carbs with cheese for bread, taco shells, muffins and more to slash carbs and bump up the fats. Whether you opt for cheddar, mozzarella, gruyere or something else, you can totally get that thick, crispy or dough-like texture you're looking for by using cheese while keeping your carb budget for the day in check.
Plus, cheese is super versatile and can complement an abundance of flavors, making for a great canvas for spices, herbs, sauces and toppings. Not to mention, you'll get some added satiating protein and bone-protecting calcium.
Not sure where to begin? Here are a few great cheesy recipes that help you indulge while on keto, so you don't need to feel deprived one bit.
1. Instead of Pita Chips, Try Flavored Keto Cheese Chips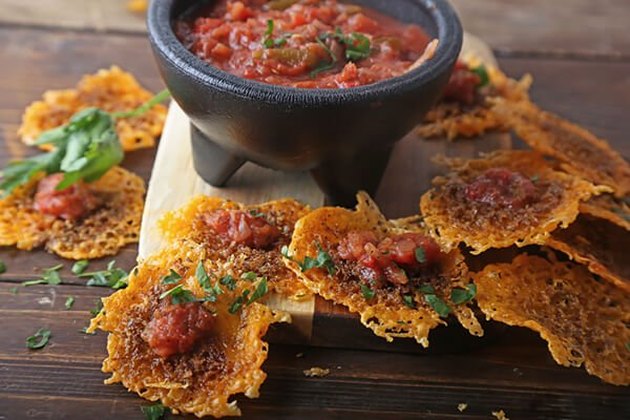 A great recipe from Ruled.me, these chips lose their carbs thanks to good old cheese, which helps it come together and have that crispy, crunchy texture.
Each serving has just 0.56 grams of net carbs, while a typical serving of potato chips has around 15 grams. And this chip recipe is packed with fats to boost fat intake for keto, as well as some protein to keep you fuller longer.
2. Instead of Garlic Bread, Try Our Garlic, Dill and Cheddar Keto Bread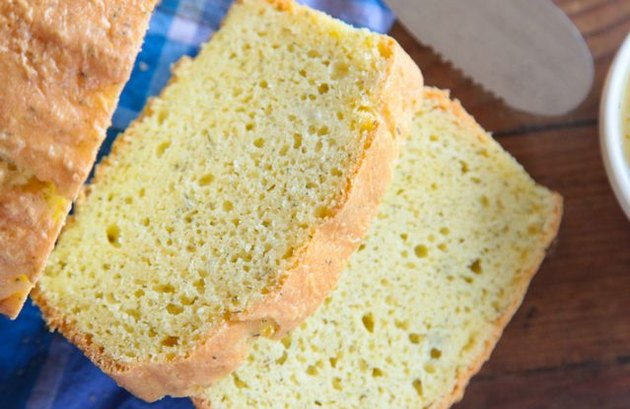 Bread and keto don't mix, yet this "bread" isn't your traditional flour-based recipe. It's made with cheddar and packs some great flavor from the garlic and dill, making for an indulgent texture you crave for sammies and morning toast.
Typically, a slice of bread can have 10 to 20 grams of carbs, but this recipe has just 4 grams of carbs in a slice. Plus, there's lots of protein from the cheese and egg whites to keep you satiated longer, as well as fats galore so you can hit your daily goals.
3. Instead of Pizza, Try This Flourless Cheese Pizza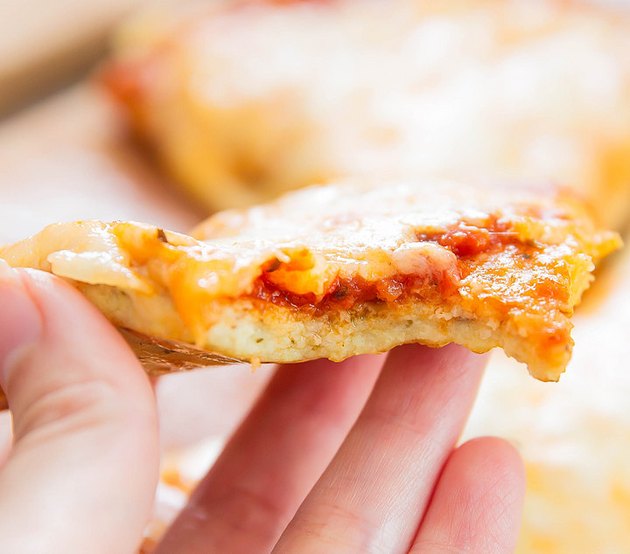 A cheesy pizza is pretty dense in carbs since all those gooey toppings sit atop bread. Each slice of a standard 14-inch pizza crust can have around 36 grams of carbs. Yikes! This swap from Kirbie's Cravings is flour-less and uses just cheese to get that dough-like base without kicking you out of ketosis.
Here, you get just 7.6 grams of net carbs a serving, and there's plenty of fat and protein to keep cravings at bay. Use a low-sugar tomato sauce to keep your pizza keto-friendly.
4. Instead of Tortillas, Try Crispy Cheese Taco Shells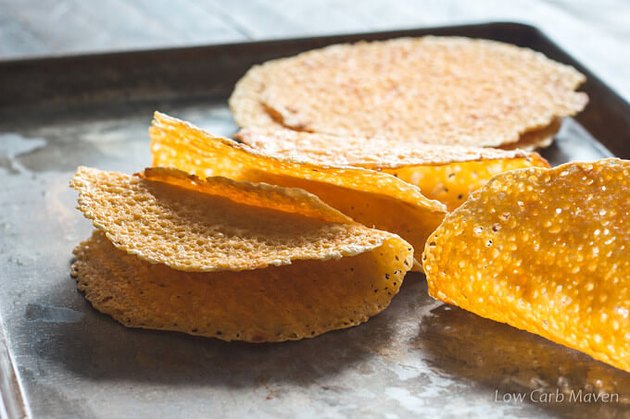 Want to take part in Taco Tuesday but not sure what to do about the tortilla? You can make a great taco recipe with these cheesy, low-carb shells. This recipe from Low Carb Maven is perfect for when a craving strikes, and the cheese has great crispiness to it for crunch with each bite.
One small, six-inch corn tortilla has around 12 to 15 grams of net carbs, which is a lot for a small surface. There's just 1 gram of carbs per shell here and 11 grams of protein — that's way more nutritional bang for your buck. Plus, you'll get 14 grams of fat to help you reach your macros for the day.
5. Instead of Muffins, Try Cheesy Garlic Bread Muffins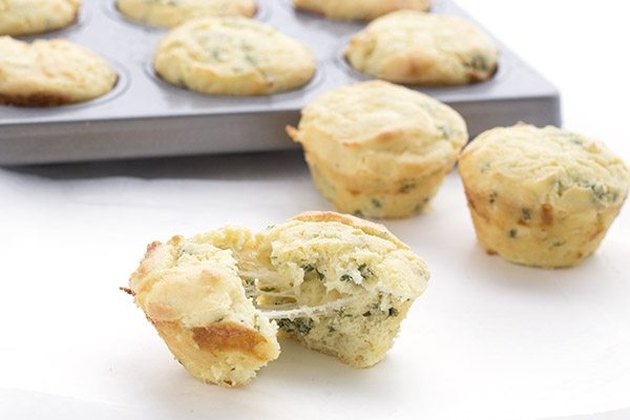 If you love muffins in the morning or as a quick snack, it's almost impossible to find one that's low enough in carbs. Until now, that is.
A typical medium-sized muffin has about 61 grams of carbs, which is way over a carb budget for a whole day! This makeover from All Day I Dream About Food packs in a surprisingly delicious savory flavor and is low in carbs, with just 4.37 grams of net carbs per muffin.
6. Instead of a Grilled Cheese, Try Keto Jalapeño Cheese Bread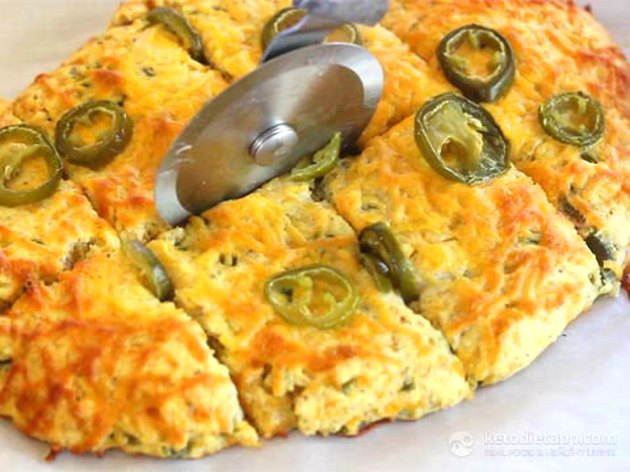 A slice of white bread has around 14 grams of carbs, but a square of this spicy bread from the Keto Diet App has just 3.3 grams, with just 1.5 grams of net carbs, thanks to some filling fiber.
Using eggs, cheese and Greek yogurt, the consistency is thick and hearty, to really resemble a slice of bread, and there's some great heat from the jalapeño peppers for that savory, cheesy feel. Serve it with ranch dressing or low-carb marinara sauce for pizza night.